October 2, 2023: My father is better! And I am hunkering down at home to get some writing done between now and March. Next month I'll have the cover of All Things in All Things to show to the world ... while I work on finishing it lol. The ending still won't hang right and I've got a host of questions about the Thames River out to various museums and archives. But I can see the shape of the thing, which means I'm over the top and coming down the other side. Hope to start scheduling the editing process soon. In the meantime, I'm starting to post research notes and I'll be reposting the revised draft, as much to get my head back into the project as anything. More to come!
July 23, 2023: Clearly I have not been keeping up with things, though I have been emailing subscribers directly. But the short version is that my father had two strokes, one in May and one in June, and I have spent these last months mostly in Florida, first advocating and then caring for him. The good news is that he's home with home care via the VA (which is proof that America can create a functional healthcare system—it's not perfect but it's working) and while I don't think it will be a total recovery, he's doing well. I'll still be back and forth through August, shepherding him through his myriad follow-up appointments, but I'm hoping by September to be back to some semblance of normalcy. It does mean that the publication of All Things in All Things will probably be spring 2024, alas, but when it does come out there will be proper champagne.
October 12, 2022: As many of you know, my mother passed away in August, after three weeks in at-home hospice. It was not unexpected—she had been diagnosed with multiple myeloma nine years earlier—but her decline was extremely rapid and I am still reeling. Back in August I suspended all paying subscriptions until January, but as I start to work through my grief I've realized I need to scrap the paid serial model altogether. I'm starting to write again; I know I'll be writing more by January; but I have no idea when I'll be able to commit to a schedule, and I can't promise folks regular installments when I'm so at sea in my own head.
And just writing that is a relief, which tells me this is the right thing to do.
So all the content on this site will be free for the foreseeable future, though I will continue to ask people to subscribe (essentially, to create a login) to gain access. The chapters, the posts, they're still happening—I've got a few in the works that will be up before the holidays—but they're going to be erratic for the foreseeable future (and let's be honest, they've been erratic for many months now, as her chemo regimens began failing last fall.)
In what may seem a counterintuitive move, I'm taking advantage of Ghost's new features to add payment tiers, but the book chapters are no longer tied to those subscriptions. The paid subscriptions are for those of you who just want to support the project financially, rain or shine. You'll get any printed stuff for free, and as I get more energy I'll create other perks for you—I'm mulling over meetups, shoutouts in acknowledgments, that sort of thing. But all of that, I suspect, is several months away.
I'll be emailing current paid-tier subscribers this week with a version of this update, as well as information specific to them.
If you have any questions, don't hesitate to contact me. Thank you for your understanding. ❤️
---
July 13, 2022: As we look ahead to the very! last! installment!! of Prima Materia, the rest of the year here is starting to take shape. After this we will go a little backwards in time and serialize All Things in All Things, which is nearly done now. This will enable me to start working on Seissan's character arc in its entirety, as he is pivotal to The Glorious & The Vile, and hopefully allow me to come up with a tighter spine for that book as right now it's sprawling in all directions and on track to be 200k which is ... a lot more than I think it needs to be. I'll also be going to a few conventions in the next couple of months: Creatures Con, Silicon, and Rose City Comic Con. I'll have signed copies of Seeds of Truer Natures (though of course you'd also get one with your paid subscription), and possibly—just possibly—a Prima Materia-related chapbook at Rose City in September.
April 6, 2022: Hello everyone! I am back from WonderCon, where among other things I sold copies of Seeds of Truer Natures and talked to some wonderful vampire fans. I wanted to let you all know that I am taking the plunge, with much gulping and cold sweats, and reading from Seeds at Flights of Foundry, a free vitual convention, this coming Saturday. My reading is at the ungodly hour of 9 pm Pacific unfortunately, but that's also what's giving me a bit of courage to tackle this. 😬 I'll also be putting the ebook of Seeds on a brief 99 cent sale through the weekend, so it's an excellent time to tell a friend to give it a try!
January 29, 2022: Apologies for the lack of news - I've been focused on the paying subscribers newsletter and forgetting to update here, my apologies! I've been doing some housekeeping and it looks like at this rate Prima Materia will wrap sometime in June. After that we'll start either All Things in All Things (the Seissan/Cesar prequel novella, set in 16th-century England) or go right into The Glorious & the Vile (and the return of Magnus and Adrian, hurrah!) depending on what shape the latter is in. I'm through Act 1 of that book and hoping that time and skill will mean there will be less messiness in the first round revision than there was in Prima Materia (that thing took years, and I mean years, yikes.) Aiming to have Prima Materia out next fall; I had hoped for May, but as per usual I was being very foolish and impatient as I am with all writing things, and forgetting my golden rule (see September 7 below). This is a slow business, alas.
November 16, 2021: Seeds of Truer Natures is out in the world! All the links can be found here on my main website. It will be in Kindle Unlimited until May '22 and widely available after that; you can also order paperbacks either from Amazon or direct from me (and get them signed! and usually I stick a few treats in the package!) Thank you all for making this possible ... and apologies for the retroactive announcement; I'll be better about this going forward.
September 22, 2021: The preorder for Seeds of Truer Natures is live, which means I can finally reveal its glorious cover: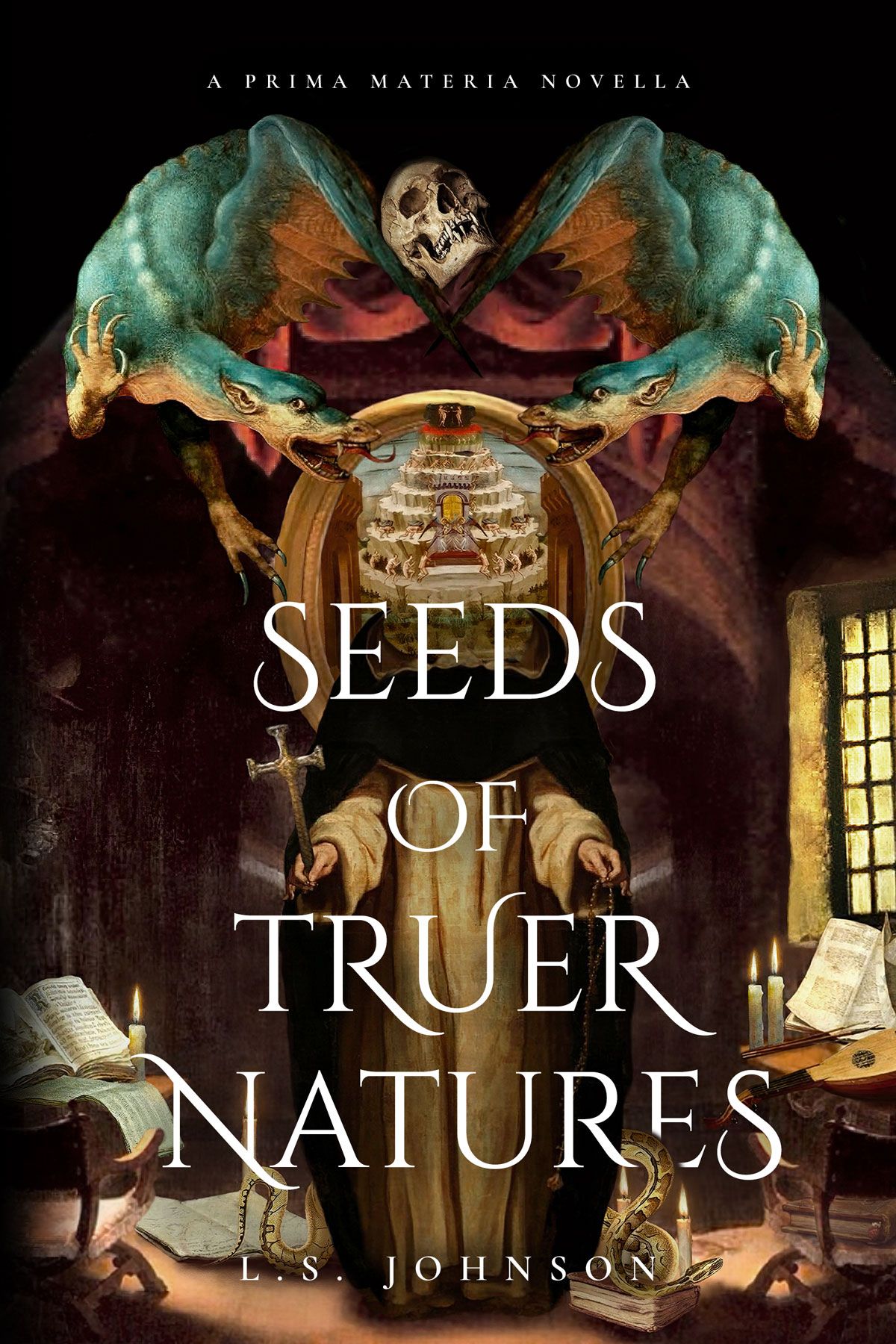 Art is by Welder Wings, design by Najla Qamber, launching on November 16th as planned. You can preorder the ebook at Amazon and the paperback at Gumroad ... though subscribers will be getting the final ebook next week and paperbacks in October.
Also, all this means that the first chapter of Prima Materia is going up next week, eep! Happy birthday to me ...
---
September 7, 2021: apologies for not more posting at the moment, I got swamped by Rose City prep and also real life. Next week the multi-day con thing will be over for a while and I can focus on writing once more. But I did settle on November 16th for the launch of Seeds of Truer Natures—! My first thought was the 2nd, which I could probably hit, but L.S.'s golden rule states that whenever possible, add 2-4 weeks to that ideal production deadline (launch, editing, cover, really anything). Which is also, perhaps, a way to approach life: add weeks whenever and wherever you can.
---
September 1, 2021: tomorrow Part IV of Seeds of Truer Natures posts, and subscribers will be getting the first look at the novella's cover then. I'm aiming to have the preorder for the final book up by September 16th, with a publication date in November. That means subscribers will start getting their paperbacks and ebooks sometime in October!
Thanks to everyone who stopped by at Silicon! I hope you're enjoying Part I. :)
---
August 5, 2021: and today is, in fact, that day, as this site is now live. Seeds of Truer Natures is going up on the following schedule: July 22, August 5, August 19, September 2, and September 16.
Also, I've got a little chapbook of Seeds Part I in the works ... it's meant to be a teaser, I'll be bringing some to comic cons this fall (Silicon, Rose City, and Powerhouse, fingers crossed, wear your masks), but I'll also be offering them to subscribers here once they're ready. I do love making chapbooks!